MAKING BRACELETS
Make your own bracelet
Inspiration examples for DIY bracelets
Basic techniques for making bracelets
Different ways to finish DIY bracelets
Find out which materials are suitable



MAKING BRACELETS WITH INSPIRATION EXAMPLES
Would you like to make bracelets, but you don't know where to start? Or do you already have a design on your mind but find it difficult to get started? No problem, we are here to help you! You will undoubtedly get an answer to all your questions about making bracelets here.

At Dreambeads Online you will find all information about making your own jewelry with useful tips, inspiration, and a wide range with all the needed jewelry findings. Read on and learn everything about making bracelets!
Making jewelry | Making earrings| Jewelry Making Kits
Blog | Lookbook
BASIC TECHNIQUES
The possibilities for making bracelets are endless. That's good news, of course, but it might be confusing if you don't know how to get started. That is why there are a number of basic techniques that you will see in different types of bracelets. We'll go through them with you:

Bracelets with elastic thread
The simplest technique is a nice, beaded bracelet, strung on an elastic thread. Beaded bracelets are extremely popular and quite easy to make yourself.

DIY: To prevent your beads from falling off while stringing start by unwinding the elastic thread from your roll. Then thread your beads onto the elastic thread and cut it. Always keep the elastic thread a little longer to finish your bracelet. You can now tie 2 or 3 knots into the elastic thread. As elastic material is slippery, the knot can loosen, therefore apply a small amount of jewelry glue to the double or triple knot for extra hold and strength.

Now you cut the two ends of the knot short or if the bead hole allows it, thread it through the adjacent beads for a nice finish.



Bracelets with jewelry wire
Jewelry wire is also a nice material for making bracelets. Unlike elastic thread, jewelry wire is not elastic, but it is sturdy and always has a beautiful clasp.

DIY: Start by cutting your jewelry wire with a side cutter. Consider an extra length of wire for finishing your bracelet. Now you thread a crimp bead onto the jewelry wire, followed by a lobster clasp. Bring your wire back through the crimp bead to form a loop and pull it tight until the lobster clasp sits at a right angle to the wire. Squeeze the crimp bead closed with flat nose pliers.

Then you start stringing your beads and finish with another crimp bead which you can squeeze closed with flat nose pliers. After having finished stringing your beads, repeat the step as above and replace the lobster clasp with a jump ring.

Did you know that you can also finish off your jewelry wire with crimp bead covers or a wire protector? In our blog 'Attaching a jewelry clasp', we explain step by step how you can attach a beautiful lobster clasp to your jewelry wire in 3 different ways.



Knotted bracelets
Making knotted bracelets is another technique which is also extremely popular. It starts with choosing your type of bracelet and matching material. In our range of stringing material, you will find diverse types of cord that you can use to make knotted bracelets. The following cords are suitable for this: satin cord, wax cord, and nylon cord.

Note: stringing beads on these cords is not always easy. It is of course possible however consider the type of stringing material and the bead hole size. If you have beads with a bead hole of 1 mm, a waxed cord of 0.5 mm will fit fine, but a waxed cord of 1 mm will not. So always take a cord a few sizes smaller compared to the bead hole size.




Top 3 frequently asked questions
1. What do you need to make bracelets?
1. Tools: jewelry glue, set of pliers, bead design board and beading needles
2. Stringing material: elastic thread, jewelry wire, rolo chain, ball chain, leather cord and another cord of your choice
3. Beads: your favorite beads in assorted sizes, colors, and types
4. Findings: crimp beads and crimp bead cover, knot covers, jump rings, head & eye pins, and connectors
5. Clasps: lobster clasps, toggle clasps, and magnetic clasps

Of course, it depends on what kind of bracelet you want to make, but these are the basic materials that you will undoubtedly need. You can order all materials you need for making bracelets online at Dreambeads Online.
2. What thickness of elastic thread or jewelry wire do you need for a beaded bracelet?
Always match your elastic thread or jewelry wire to the bead hole size of your beads. You can find the bead hole size for all our beads under 'More Information'. The bead hole of your beads should always be slightly larger than the thickness of the stringing material. For example, if you have beads with a bead hole size of 1 mm, you should use stringing material of 0.8 mm or thinner. With waxed and nylon cord, this can vary as these cords, because of their material are more resistant when used for stringing. So, consider an even larger bead hole size.
3. How many beads do you need for a bracelet?
To calculate how many beads you need for your bracelet; you need to know the wrist circumference. You can assume 16 / 17 cm for a small wrist, 18 / 20 cm for an average wrist and 21 / 22 cm for a larger wrist. You can use a tape measure to measure this yourself.
Next you divide the wrist circumference by the given size of the bead. For example: you have a wrist circumference of 17.5 cm (175 mm) and beads of 6 mm. 175 divided by 6 will give you 29 beads.
Curious to see how the different sizes of our beads look on your wrist? Take a look at this practical
bead size chart
.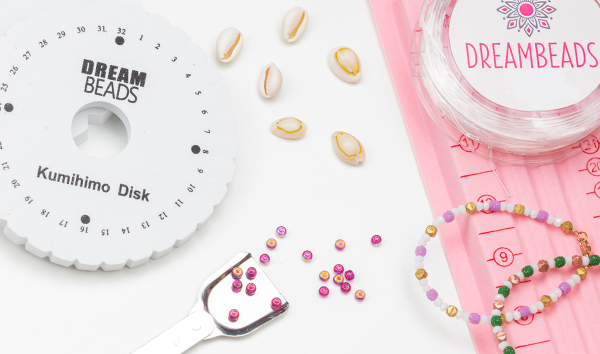 MAKE YOUR OWN JEWELERY
Discover how you can make professional jewelry yourself and what tools you need to do it.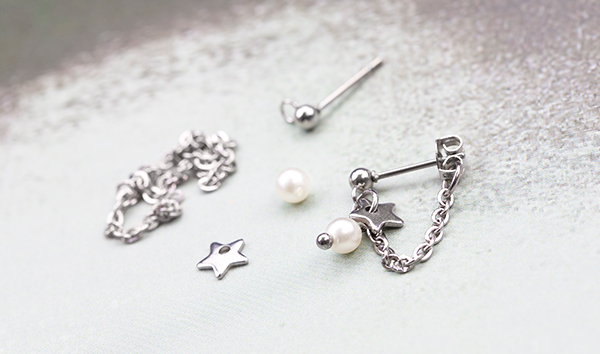 MAKING EARRINGS
Make your own earrings? We are happy to help you transform your own ideas and give you the best tips and inspiration.


5 WAYS TO FINISH YOUR BRACELET
Stringing beads on a bracelet is of course genuinely nice and simple. But what comes next? How do you finish off your elastic thread or tiger tail wire? And which jewelry findings do you need for doing so?

In our blog we present 5 methods for finishing different types of bracelets. Read on and discover how to finish your handcrafted bracelets professionally with these top 5 methods:

1. Elastic thread with knots
2. Practical sliding knot with cord
3. Lobster clasp with tiger tail wire
4. Magnetic clasp on leather cord
5. Toggle clasp with rolo chain


MAKING BRACELETS WITH DREAMBEADS ONLINE
This bracelet set has been put together with beads and findings from our range. Do you want to make the same bracelets? Read on and discover which findings we used for this.

Bracelet 1:
H082 | Agate Beads Colored (8 x 4 mm) Creamy White
H079 | Agate Beads Colored (8 x 4 mm) Navajo
H071 | Agate Beads Colored (4.5 x 4.5 mm) Brown Grey
H077 | Agate Beads Colored (4.5 x 4.5 mm) Mint Green
I003 | Polymer Clay Beads (4 x 1 mm) Coral
I029 | Acrylic Beads Smiley (7 x 3.5 mm) White / Gold
H263 | Electroplated Hematite Beads (3mm) Gold

Bracelet 2:
H055 | Gemstone Chips Strawberry Quartz (5 - 7 mm)
H263 | Electroplated Hematite Beads (3mm) Gold

Bracelet 3:
CE1035 | Electroplated Glass Beads (4 x 2 mm) Mint Green
H263 | Electroplated Hematite Beads (3mm) Gold

Bracelet 4:
Y1325 | Stainless Steel Rolo Chain (7 x 4 x 0.8 mm) Gold
Y2342 | Stainless Steel Connector 2 Eyelets Butterfly (12 x 9 mm) Gold
Y2340 | Stainless Steel Toggle Clasps (13 mm outer size) Gold
Y200 | Stainless Steel Jump Rings (4 mm) Gold

Bracelet 5:
H021 | Freshwater Pearls (40-9 mm) White




Bracelet 6:
H2958 | Shell Beads (4 - 5 mm) Litob Shell*
M1958 | Charm Cowrie Shell (11 x 9 mm) Gold

*The Litob Shell beads shown in the photo are 7 - 8 mm in size. The chosen item H2958 is 4 - 5 mm in size (smaller) and similar to the beads in the example.

Of course, you can also put together trendy bracelet sets yourself. Select different beads of which the colors combine well together. By choosing different materials you can develop a surprising effect with your jewelry set. Do not box in your own creativity and make stunning and unique bracelet sets.


MAKE YOUR OWN BRACELETS
Now it's time to start making bracelets! Start by planning your design and choose the stringing material accordingly. Elastic thread, nylon, or leather cord… you will find them all in our range. Would you like to make a bracelet with pearls? Look at our beautiful freshwater pearls collections.


Fast delivery: all orders before 5 p.m. are shipped the same business day
An extensive and versatile item range for making bracelets
Excellent quality-price ratio
Plenty of inspiration and tips