MAKING EARRINGS
Design trendy earrings of the best quality
MAKE PROFESSIONAL EARRINGS YOURSELF?
We have the knowledge and the best jewelry findings for making earrings. Making your own earrings is really fun and you can do it too! Do you already have experience with it or are you completely new to jewelry making? Either way, we are happy to help you.
Discover our wide range with different types of earrings
Choose from beautiful earring pendants, charms and findings
Create professional quality earrings
Explanation of various types of earrings
How to: make 3 basic earrings


Go directly to our range of earrings or quickly read on how to make your own earrings.



11 YEARS
Experience & Expertise



MISSION: MAKING EARRINGS
You probably want to know more about making earrings, what you need for this, and where to start. Dreambeads Online has more than 11 years of experience in supplying jewelry findings for making earrings and other jewelry. We try to match our range as closely as possible to the wishes of our customers and the latest jewelry trends. Making earrings really starts with us!

You can of course go in any direction when it comes to making earrings. Do you already have an idea in which direction you want to go? Then you are well on your way. However you may find it difficult to come up with a design and this may prevent you from getting any further.

We like to explain the different types of earrings available, the actual trends and how to make earrings.


Small earrings
You see them everywhere: an ear covered with various small earrings. Matching earrings in line with this style are stud earrings or small hoop earrings. In our range you will find the nicest ones, matching your design. All our earrings have an eyelet to which you can attach a pendant. Decide for yourself what you like to hang on it. Choose nice charms or a small selection of beads for dangling earrings.

Currently, small earrings are more popular than ever before! So especially for everyone with multiple earring holes, small earrings are great fun to make (and wear).


Hoop earrings
Simple and well known are hoop earrings. We have different sizes of hoops, from small to large. Keep it simple and attach a nice charm or go for a creative design by stringing some beads together and attaching them to the earring.

Tip: These earrings still need to be attached to an ear hook, however they are also very nice to make sole earrings with. One side of the earring can be opened for threading beads on it.

Statement earring hooks
The bigger the better using large statement earrings! In addition to the minimalist earring trend, you can of course also go for a beautiful eye catcher. Geometric shapes are great for a trendy look, but also the combination of different materials make an interesting ensemble. You can also create a chic look by using our freshwater pearl collection!



INSTRUCTIONS: 3 BASIC EARRINGS
Yes, it's time to get started! We have developed 3 basic earrings that you can start with. Choose from earrings such as stud earrings or earring hooks. Each earring has its own design, but you can of course also adjust this to your own taste. Which earrings appeal to you the most?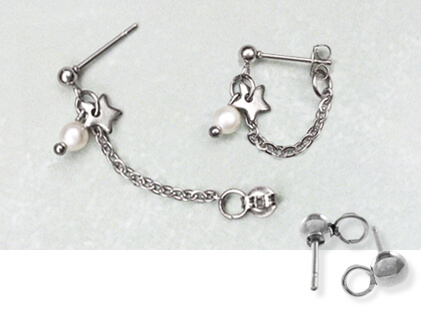 1. STUD EARRINGS
Making earrings with these stud earrings is really fun and easy. For this design we make an extension piece on the stud earrings using a thin rolo chain, which is connected to the earring back. You can make these earrings as a set or as a single item and combine them with other stud earrings, for example. With this trendy earring you can easily create a cool ear party which is the trend in 2021.

Start by threading a glass pearl onto the head pin and use a side cutter to shorten the head pin so that you are left with about 1 cm. Using round nose pliers you bend an eyelet to which you attach a jump ring. The charm is then attached to the jump ring. The stainless steel head pin is of excellent quality and has a little ball on the bottom which secures the glass pearl.

Now take the rolo chain and your side cutters and cut 1 or 2 pieces of 2.5 cm - depending on whether you are making a set or not. Attach a jump ring to both ends of the rolo chain and connect the earring back to one end and the stud earrings with the two charms to the other end. Once everything is secured and the jump rings are closed, your earrings are ready!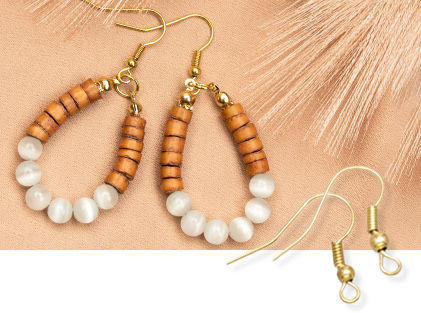 2. EARRING HOOKS
Do you want to make this beautiful earring hook set? Gather all the items together and start cutting your metal wire into two pieces of about 10 cm. At the end of your wire, place and squeeze a crimp bead, then cover it with a knot cover. You can gently squeeze this knot cover so that it covers the crimp bead nicely. As you can see, a knot cover serves both as a practical and a beautiful solution for finishing your metal wire.

Okay, now you can thread the beads onto the other side of the metal wire and leave a short end of metal wire. Now you thread a knot cover onto the wire followed by a crimp bead. Then gently squeeze both parts closed. Cut away the end part of the metal wire so that nothing can be seen.

Take your jump ring, bend it open using your set of pliers, attach the two knot covers and your earring hook to it and then close the jump ring. Follow these simple steps for the second piece and your earring hook set is ready!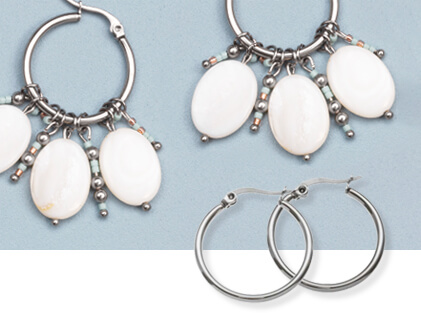 3. HOOP EARRINGS
Go for a beautiful eye catcher with shell beads, Miyuki Delica's and stainless steel earrings. To make this earring set you only work with a few parts and a technique for making eyelets with head pins. Let's go!

You will need 3 head pins for the shell beads and 4 head pins for threading the other beads.
First thread this beautiful shell bead onto the headpin and shorten the head pin with a side cutter so that you have about 1 cm left to make an eyelet. Form the end of the head pin with round nose pliers until you have a nice and subtle eyelet. This step is always repeated for all "pendants" that are attached to an earring.
The bead bars are made up of small Miyuki Delica beads and stainless steel metal beads, strung in any order you like.

Now you attach a jump ring to every bead item and slide them onto your hoop earring. Are you really into details? Then add extra jump rings on the earring hoop, with Miyuki Delica's strung onto the jump rings. The end result will be beautiful earrings which you have made yourself quickly and easily!


GET STARTED!
MAKING EARRINGS STARTS WITH US
Why order from Dreambeads Online:


Fast delivery: ordered before 5 p.m., shipped the same business day
A wide and diverse range of earring findings
Excellent quality-price ratio
Useful inspiration and tips
Customer rating 4.8 / 5


Are you ready? Let's start!