DIY: Make your own sunglasses straps
BASIC TUTORIAL AND TIPS
Yes, it's that time again: sunny days! And that's why it's also time for a new DIY blog. We are going to make nice sunglasses straps and we will explain it step-by-step to you. So, do you feel like making sunglasses straps? Read on and get yourself started!

Making sunglasses straps is super fun and anyone can learn to do it. Sunglasses straps are not only summer accessories, but they are of course also very functional. Wear your sunglasses with straps so that you can put them on and off very quickly. And there's another add on: do you often misplace your stuff (how chaotic!)? Well, with your handcrafted sunglasses straps that will surely be a thing of the past, at least for your sunglasses!


CREATING YOUR OWN SUNGLASS STRAPS
You can design a strap for your sunglasses yourself. Choose a nice color palette, the type of beads and, if you want, also nice charms. Yes, as long as you take the wearing comfort into account, the possibilities are endless! But which beads are real must-haves for sunglasses straps? Small, subtle beads such as our seed beads and Miyuki Delicas are definitely often used. Acrylic and polymer beads are lightweight and are also used to make cheerful sunglasses straps. Cowrie shells are always very popular for a summery look. Curious to know which beads we used for our DIY sunglasses strap? We'll tell you soon!

Are you still unsure about which stringing material is suitable for sunglasses straps? Actually, you can work with different types of stringing material, depending on your beads and also the kind of material that suits you best. Some examples of the most common types are elastic thread, waxed cord, nylon cord, fishing wire and metal wire.

Choose your own colors for your strap! Maybe orange is your favorite color? Or do you go for a mix of beautiful shades of blue? If you find it difficult to choose the right colors, we are of course happy to help you. We have selected the trend colors of the moment for you and combined them with our beads.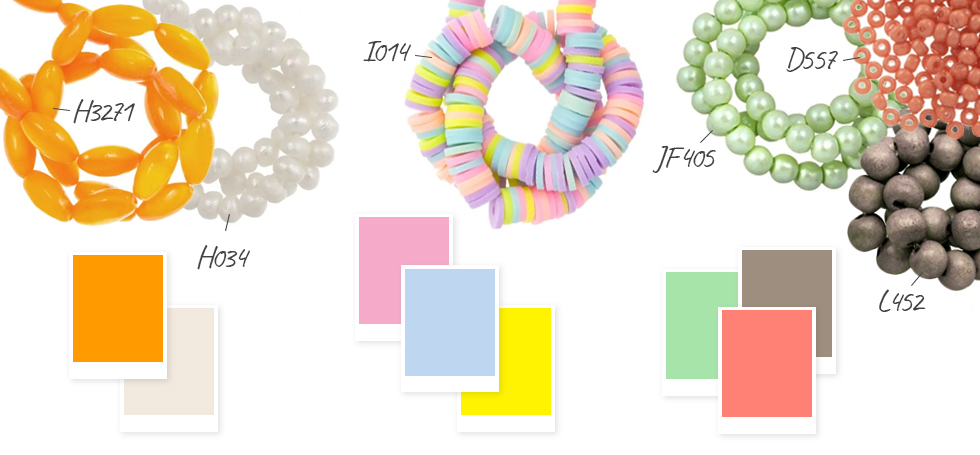 Of course you don't have to choose a strap with beads. Also very stylish and very easy to make are sunglasses straps with rolo chains. Choose your favorite type of rolo chain, cut the desired length and attach it to the eyeglass holders. In our range we have different types of eyeglass holders with silver or gold finish to match with your other accessories. Please note: at the moment some eyeglass holders are out of stock, we hope to have these back in stock as soon as possible.



DIY SUNGLASS STRAP
We are going to start making the strap. First of all, it is important to collect all the supplies needed for the sunglasses strap.

Materials:
- Fishing wire (0.3 mm) (A2322)
- Shell beads Pink (11 x 5 mm) (H3268)
- Freshwater Pearls Creamy White (3 x 4 mm) (H030)
- Crimp Beads Gold Gold (0.5 mm) (X403)
- Eyeglass Holders Transparent / Gold (R203)
- Set of Jewelry pliers Stainless Steel (R184)


DIY Step-by-step:
1. Cut your wire to the desired length with side cutters or scissors. It can be a little longer or a little shorter. Keep in mind what would be a comfortable length for you when you have your sunglasses on, but also when you wear your glasses around your neck. An average length to work with about 60 - 70 cm. It's okay to add a few extra centimeters just to be on the safe side. After threading your beads you can always decide to take some more off.

2. Thread the fishing wire through the crimp bead, followed by the eyeglass holder. Then thread the fishing wire back through the crimp bead and press the crimp bead closed with flat nose pliers. 



3. Start stringing the beads. The pattern we have chosen starts with 3 freshwater pearls, followed by a pink shell bead. Repeat these steps of the pattern until you are done. 


4. Now you thread another crimp bead on your fishing wire, followed by another eyeglass holder and press the crimp bead closed. Basically you repeat step 2 of this tutorial. You can then thread the remainder of your fishing wire through the adjacent beads again for a nice finish. If you wish, you can also use a crimp bead cover for a professional finish.


5. Well done! Your sunglasses strap is ready to go! Now that you know the steps, making a sunglasses strap is indeed very easy. Enjoy the summer!
Have you become enthusiastic and would you also like to make a sunglasses strap? At Dreambeads Online you will find all the materials you need for this. And good for you: if you order your beads and findings on business days before 5 p.m., we will ship your order the same day!

So spice up your outfit with a trendy sunglasses strap and you're ready to go... to the beach!